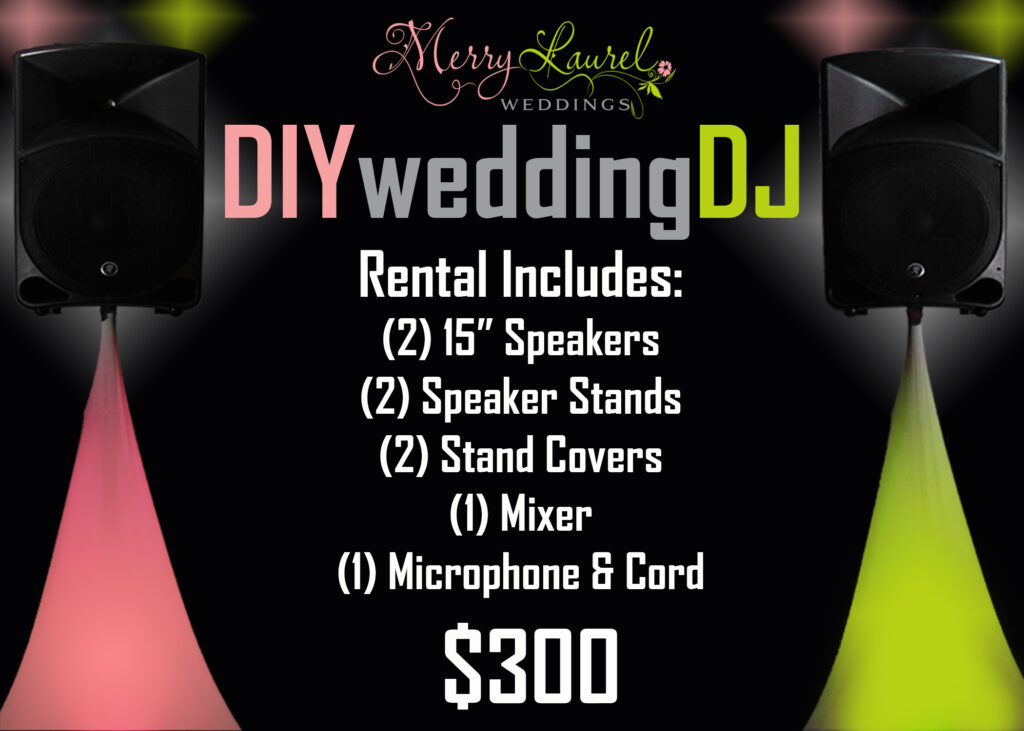 The Opener (5 hours)  $800 + tax
The Opener package gives you the most sleek and simple look for your wedding DJ.  You provide the decor of the table and surroundings for the DJ and Merry Laurel will come with a simple set-up, a high quality DJ, speakers, and dance floor lighting.
The Headliner  (6 hours) $900 + tax
The Headliner package provides your reception with a classy and elegant look.  White trim is provided by Merry Laurel Weddings to cover the DJ table as well as speaker stands.  A high quality DJ, speakers, and dance floor lighting is also included.  This is our most popular package!
Encore + 8 Uplights  $1,100
The Encore package is an upgrade to the Headliner option.  This package includes uplighting with the DJ table and each speaker stand.  Choose from many colors that match your wedding day.  This adds a very special and personalized feel to the already elegant look of Merry Laurel Wedding's set-up.  Love the atmosphere lights provide?  Consider adding-on Bridal Table Uplighting or Reception Hall Uplighting.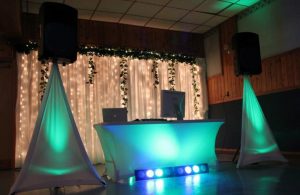 What do you get with EVERY DJ package?
Professional High Quality DJ: Every DJ is a Merry Laurel Weddings DJ and personally trained by the Lead DJ / Owner of Merry Laurel Weddings.  Each DJ will coordinate and lead your reception with class, professionalism, and great music!
5 Hours of Music: Each package comes with 5 hours of music.  If you are planning a reception that will last longer than 5 hours, or wish to have music playing during the cocktail hour – you can add on additional time to your reception entertainment.
Wireless Microphone: Each package comes with a superior wireless microphone which will be available for use by your best man and maid of honor for toasts, as well as blessings, and any other announcements you or your guests may have.
Setup and Cleanup Time: All setup and cleanup time is included with every package. We will arrive at your reception with enough time to setup all of the equipment, run through the timeline with those vendors present, and be ready for you and your guests to arrive.  Cleanup will also be done promptly after your reception.
Reception Event Planning Consulting:  We will help you select which events you want at your reception, and the best timing.  We help you decide reception events based on the best interest of the bride and groom and their guests.
Complete Song Selection and Consulting:  We are professionals and will advise you on song selections, and help you choose the perfect songs for your reception.  Ultimately – the songs that are played are up to  you.
Huge Music Library: If internet is available at your reception, we will download and play approved requests throughout the night.  All of our music is legally obtained and high quality.
Add Ons
Additional Hours of Music – Additional hours are available by the hour or half hour.
Monogram – Merry Laurel provides the monogram projector, stands, and lighting, and you can customize your design.
Video/Photo Display: Includes an extra computer to place on your gift table so small groups of people can take turns watching your photo montage or other videos
Photo Slideshow / Montage: Creating of digital file featuring up 120 pictures and 2 songs in an elegant display for your guests and a keepsake for you.
Bridal Table Backlighting : Uplighting behind your bridal table (4 lights).  You choose the color.  This is a great way to accent your head table at your reception!
Reception Hall Uplighting: Uplighting to provide the perfect look to your reception hall.  Minimum of 8 additional uplights available for rental.  Discount pricing available with purchase of bundle package.
Second Set-Up: If you have a large room our outside venue, you may with to have double the speakers to give your guests a more full sound.  If you have two room which you want music playing (e.g. cocktail room and dance room) you may want to consider a second set-up.